Once you have spent some time on the driving range and feel you are ready to enter an entire golf course, there are several factors to consider.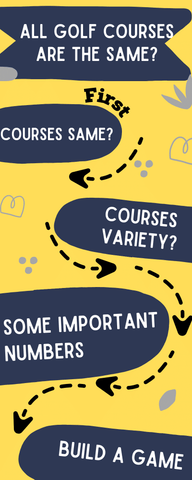 Courses Same?
The key is to understand that not all courses are created equal. Private courses are only open to paying members, while public courses are open to all golfers of any skill level.
When starting, your best bet is to play a course that is not too difficult and is shorter. You also want to play when the course is less crowded, such as in the early morning or late evening. This will give you the freedom to play at your leisure while getting used to the game.
It's easy to get frustrated when you first start playing, and if you feel rushed, the frustration will increase. If another golfer is waiting behind you, don't hesitate to let them play through (meaning when they finish playing, you step aside and then walk in front of you). This is not a formal rule, but it is generally considered proper etiquette for the slower golfer to let the faster golfer pass. They will appreciate the gesture, and you will be relieved of the pressure of playing in front of others.
It would help if you also considered starting with a par 3 or "executive" golf course. These courses are much shorter than the regular courses and are easier and faster to play while still helping you develop the skills you need. For many par 3 courses, most holes are less than 200 yards long, and all you need is a putter and a few irons. Playing on shorter courses will help improve your chipping and putting tremendously. An executive course usually has 10 to 13 par 3's, and the rest are par 4's. The advantage of this is that you can hit the tee shot a few more times without being overwhelmed by a series of long, challenging holes.
Once you're comfortable on the shorter courses, you're ready to play the longer, more difficult ones.
Are the courses the same?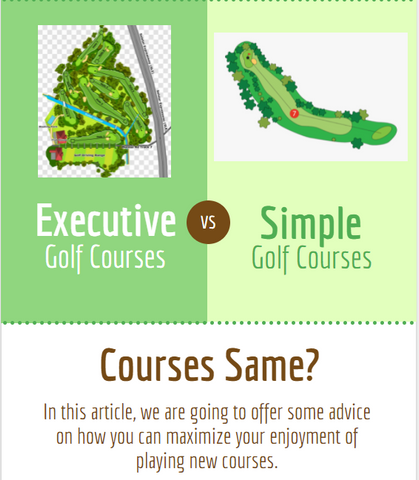 When you're just starting in the game of golf, you're likely to play the same course repeatedly. There's nothing wrong with that because you've already stuffed your hands and are just learning how to play the game - you don't need to make things more complicated by constantly going to new courses. However, you will want to expand your range and explore new places to play over time. After all, one of the best things about being a golfer is having the opportunity to explore new layouts. And, as you'll soon learn, no two courses are exactly alike.


Variety makes golf such a fun game to play for many, many years. While other sports may get boring, golf usually does not. If you get a little bored with your usual routine, you can complicate things by simply scheduling a few tee times at other local courses. Each course has its unique challenges, so you must constantly adjust your game to match the demands of the course you are playing on a given day. There is nothing wrong with having a "home course" where you can play a weekly round with your buddies, but be sure to explore other courses as well. Many golfers find that their favorite part of the game has the opportunity to play a great new course for the first time.


In this article, we'll offer some advice on how you can maximize your enjoyment of playing a new course. We'll dive into some tips on how you can play your best when you see a course for the first time, and we'll also talk about the best ways to pick a course. As a beginner, it can be overwhelming to look at all the various courses in your area online. However, once you know what to look for, you'll have no trouble narrowing down the list of options to the ones that are right for your game (and your budget).


It should be noted that you don't necessarily need to have a group of friends traveling with you to try these new courses. As a beginner, you may not know many people who play golf yet, so you may need to go out and play as one. And that's just fine. Playing golf alone is very enjoyable and you may find that you are paired up with some friendly players when you arrive at the course alone. Over time, you may make new golfing friends by spending time on and around the course.
Some Improtant Numbers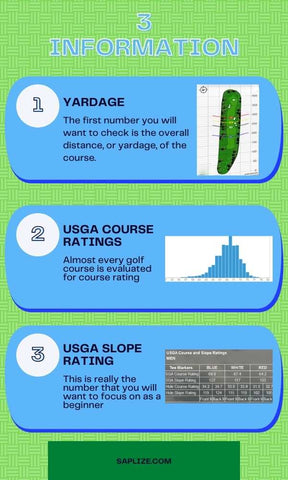 For new golfers, it is crucial to pick courses that are not too difficult. You don't want to get "stuck" trying a particularly challenging course in your area. Not only will you be holding up the pace of play for those around you, but struggling through 18 holes won't be much fun. Instead, you should choose courses that offer a moderate challenge, where you can gradually improve your skills one hole at a time. Before long, you may be able to afford to challenge the more challenging courses without any hassle.


So, how do you assess the difficulty of a particular golf course when you've never played it before? Well, you can call the pro store and ask them how challenging the course is, but that approach doesn't always work. First of all, in many cases, you will be talking to a club pro, and as a skilled golfer, the pro may not think the course is too challenging. Also, pro stores want to sell tee times not to scare away potential customers.


Instead of calling the store, try looking at the scorecard - which should be available online - to get a good idea of how challenging the course is. Specifically, there are three numbers on the card that tells the story.


Yardage. You'll want to check the first number is the course's total distance or yardage. Fortunately, most golf courses offer a range of tees to choose from, so there is almost always one for you. As a beginner, you don't want to exceed 6,000 total yards for male golfers, while for women, 5,000 yards is about right. Of course, some beginners have more power than others, so consider your strengths and weaknesses and make sure the course offers a tee that suits your abilities. When in doubt, choose a shorter set of tees to provide yourself with an enjoyable day on the course.


USGA Course Ratings. Almost every golf course is evaluated for course rating and the slope of each tee. These two numbers are usually listed on the scorecard, along with the yardage from each tee. If you look on the scorecard for a while, chances are you will find this information. A course rating is a number used to indicate the difficulty of a particular course, starting from a specific set of tees for a scratch golfer. For example, a long and challenging course with a par of 72 might get a course rating of 74 or 75. An easy course played from the short tees, on the other hand, may have a course rating of 60. The higher the course rating, the more difficult the course will be, at least from a no-name player's perspective.




USGA Slope Rating. This is the number you want to focus on as a beginner. The slope rating is for "bowlers" - in other words, the handicap is around 20 for men and 24 for women. Courses with high slope ratings can be especially challenging for beginning bowlers, so you'll want to avoid courses rated at 130 or higher. Look for courses with slope ratings of 120 or less off the tee, as these courses will be better suited for beginning golfers. The USGA administered the course rating and slope rating system, usually in conjunction with your local or regional golf association. These numbers are valuable, and they will go a long way toward helping you choose the right course - and the correct tee box - for your game. In addition, course rating and slope rating numbers are used to calculate your handicap, another valuable tool that you can use to compete with players of different skill levels. By providing these services and more, the USGA is an integral part of the game of golf, and all severe golfers should consider supporting the association in some form or fashion.


It is wise to remember to use the information you find on your scorecard to determine if a particular course is suitable for your game. As long as a tee offers numbers that you feel comfortable with, go for it. Otherwise, you may want to wait until you develop your game further before playing that particular course.
Build a Game 
It's common for amateur golfers to build their games around their home course. These golfers are great when they play on their course - and once they go to a new course, they usually struggle. Ideally, you want to avoid this pattern in your own game. You may always be more comfortable on your course, but you can work to build a game that plays well on unfamiliar surfaces as well.

So, how do you build a golf game that works well on a variety of courses?The following points are essential.

Solidify your putting stroke. When considering playing various courses, the first thing you want to do is solidify your putting. This is important because the putting surface you find will vary significantly from course to course. Some courses will have great greens that run fast and accurately, while others will be slow and bumpy. There will always be a necessary adjustment period from one course to another, but the best way to adjust quickly is to have a rock-solid putter. If you can move your putter over and over on the same path, you'll be able to put in more putts - no matter how the green looks. Practice your putting skills and make sure everything is in good shape so you can confidently access greens on other area courses.

Learn to hit the fairways. Nothing can tame a difficult golf course better than accuracy off the tee. If you can hit a high percentage of fairways off the tee, you'll find that even challenging golf courses will seem manageable. While hitting a lot of fairways with your driver is ideal, you can also look for short grass as an alternative with fairway woods or hybrids. Keep at least one club in your bag that you can rely on to divide up the fairways. Even just combining a solid putting stroke with the ability to hit fairways will make it relatively easy to tackle any course you might visit.

Hit a versatile short game. When you go to another course, one of the biggest challenges you will face is learning how to handle the short shots you will encounter around the greens. For instance, you might get to a course that has long rough around the greens, while your home course usually cuts the rough short. Knowing how to handle various short game situations will help you a lot when trying to keep your scores up. Practice as many different short games as you can to be ready for any situation.

If you have confidence that your game can handle the challenge, you will be more motivated to book tee times on other courses. As you practice, consider addressing your weaknesses rather than working on your strengths. If you follow this approach, you' ll soon have a full game that can accompany you to some of the best courses in your area.