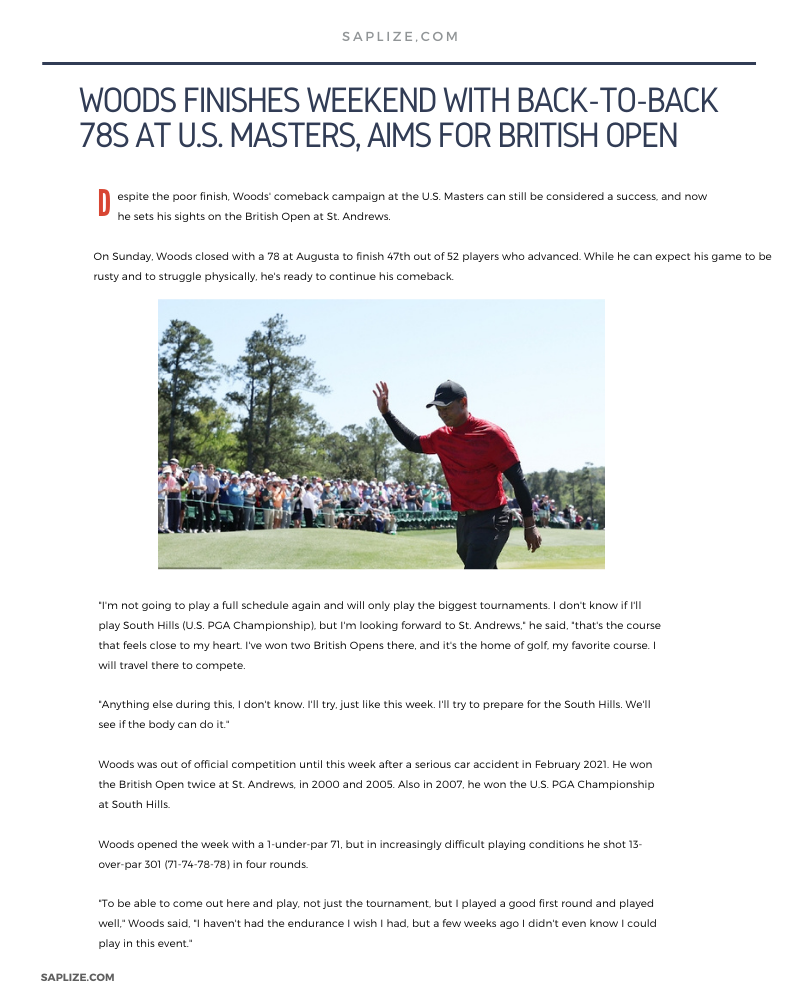 Despite the poor finish, Woods' comeback campaign at the U.S. Masters can still be considered a success, and now he sets his sights on the British Open at St. Andrews.

On Sunday, Woods closed with a 78 at Augusta to finish 47th out of 52 players who advanced. While he can expect his game to be rusty and to struggle physically, he's ready to continue his comeback.


"I'm not going to play a full schedule again and will only play the biggest tournaments. I don't know if I'll play South Hills (U.S. PGA Championship), but I'm looking forward to St. Andrews," he said, "that's the course that feels close to my heart. I've won two British Opens there, and it's the home of golf, my favorite course. I will travel there to compete.

"Anything else during this, I don't know. I'll try, just like this week. I'll try to prepare for the South Hills. We'll see if the body can do it."

Woods was out of official competition until this week after a serious car accident in February 2021. He won the British Open twice at St. Andrews, in 2000 and 2005. Also in 2007, he won the U.S. PGA Championship at South Hills.

Woods opened the week with a 1-under-par 71, but in increasingly difficult playing conditions he shot 13-over-par 301 (71-74-78-78) in four rounds.

"To be able to come out here and play, not just the tournament, but I played a good first round and played well," Woods said, "I haven't had the endurance I wish I had, but a few weeks ago I didn't even know I could play in this event."