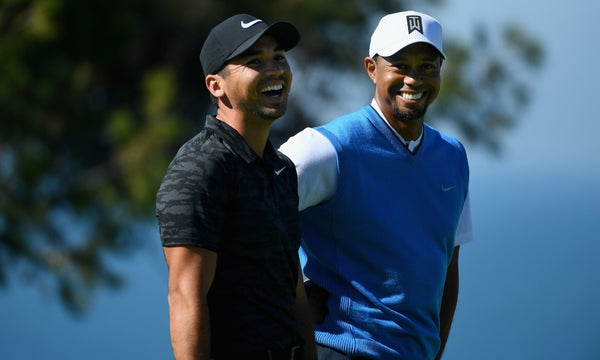 NORTH NAPLES, Fla. – Last month, Tiger Woods put out a three-second video of himself hitting a wedge that blew up social media feeds around the world.
Last week, the PGA Tour released a 23-second video of Woods hitting 3-wood, this being at the Hero World Challenge on Tuesday on the back of the range at Albany Golf Club.
Starting Friday of last week, he hit balls on three consecutive days, including Sunday when he was wearing his traditional red shirt and black slacks.
No word has come that Woods, just nine months removed from a horrific single-car rollover accident last February that nearly cost him his right leg to amputation, let alone his life, is playing again.
Woods announced Wednesday he will team with his son, Charlie, once again in next week's PNC Championship in Orlando.
Woods' peers are thrilled.
"It's great seeing him out," said Will Zalatoris, who is at Tiburon Golf Club for this week's QBE Shootout. "It's amazing how the guy goes and hits balls on the range and you kind of want to sit there and watch it instead of the golf. That just shows you how important he is to the game.
"It was cool seeing him at the dinner that Wednesday at the Hero World Challenge. My goal is to hopefully get paired with him before he's done if he's able to come back and play a limited schedule. My hopes are high that we'll see him more than he's letting on."
Other players at the QBE Shootout were just as encouraged.
Jason Day
"I think it's very positive. I'm just as excited as everyone else when it comes to watching him swing a golf club. I think it's just a little farther away from him tournament-ready and playing on the PGA Tour again if he can than most people think. Playing in the PNC is another encouraging sign. When that first video came out, it was still that Tiger swings everyone knows. It's great to see."
Bubba Watson
"After I saw his swings last week in the Bahamas, I texted him. I said, 'Hey, are you going to play next week?' He said, 'Man, I don't know if I can get around but I'm trying, I'm working.' So it was interesting to hear that he signed up and he's there. I'll be there and I'll be one of those people that follow him around, trying to see how he's doing, making sure everything's good. And then watching Charlie. My son actually asked if he could take his whole bag this year. I snuck a wedge and a putter last year and let him hit balls on the range with Charlie and Tiger right there, so this year he asked if he could take his whole bag. So I can't wait to see the whole family there, my whole family there just to give him a hug and embrace him."
Kevin Kisner
"At least he's back swinging, and that's a positive. And I hope he's back here sooner than later. If he can get back here. I've never had a sustained injury as he has, and he's had a lot, so I don't know how long it takes to get back healthy enough and feeling comfortable enough to try and get back out on the PGA Tour.
"But if anybody can do it, it's him."
Brandt Snedeker
"It's very encouraging to see him hitting balls. I'm very excited for him. I know he's not going to be able to be kind of the same as he was before but I'm glad to see him swinging. The swing looks pretty good. Hopefully, he can get his strength back and he can play four or five events a year."
Reprinted from:golfweek