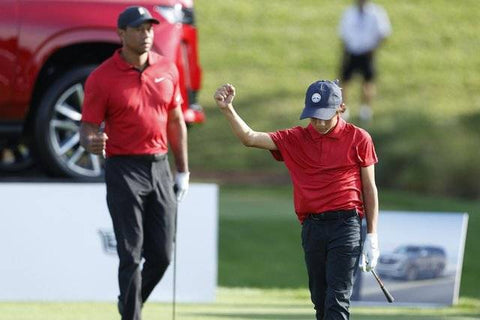 Less than one year after Tiger Woods suffered a severe car accident, he returned to play and teamed up with his son Charlie for the PNC Championship, considerably boosting ratings.

NBC Sports said an average of 2.3 million viewers watched the Woods father-son match online at last weekend's PNC Championship, a 53 percent increase over last year (1.5 million viewers) and the most-watched PNC Championship since 2000 (2.6 million viewers).

In the 36-hole tournament, Woods and Sons finished second at 25 under par, two strokes behind the winner, John Daly, and Sons. The Woods team started the day three strokes ahead, having made 11 consecutive birdies and at one point tied with the Daly team on the leaderboard. "The competitive drive never goes away. That's the environment I'm in. It's what I've been doing my whole life. I'm grateful to have this opportunity to do it again. It was awful earlier in the year, and it didn't look good." Woods said after the tournament.

In Sunday's final round, from 3:30 p.m. to 3:45 p.m., NBC had an online audience of 3.2 million viewers. Golf fans can't get enough of comebacks like Woods' and Charlie's performances. A record number of 24 million minutes played on all platforms. That's almost 2.5 times the number of hours streamed in 2020 (10 million minutes). Of the 50 most viewed videos on NBC's website last week, 37 were from the PNC Championship.

Woods, 45, didn't talk much about returning to the US Tour, saying he needs more recovery time. He used the cart at the PNC Championship, and even if he does return, he will be selective in his entries. But, as the rating shows, golf fans are eager to see Woods make a comeback.